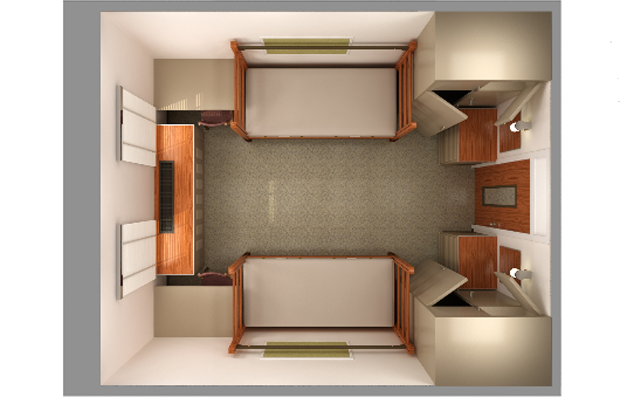 Which home appliances should be part of worker's accommodation?
The following things should include the general equipment of a reasonable worker accommodation:
Chairs (sufficient for everyone)
Single beds (sufficient for all people)
Dining table
Coffee table
Couch
Wardrobe
Bedside table
Bedside lamps
Clock radio
In general, the entire equipment of a worker's accommodation must be in good quality. If you have used items that are in good condition, you can of course use them. Damaged items or items in need of repair, on the other hand, have no place in a worker's accommodation and should not be used there, as these would immediately lead to complaints. When you as a landlord acquire new items to equip your worker's accommodation, it is important to consider whether you choose cheap appliances and furniture or invest a little more money right from the start. Inexpensive items usually have to be replaced more often, as they break quickly due to regular use — more expensive goods usually last longer and are of higher quality.


Does a worker's accommodation need to have its own kitchen? And how should it be equipped?
The majority of workers want their own kitchen for their accommodation. This is the only way they can cater for themselves, no matter what time of day or night. Because workers usually have a long working day, which starts very early in the morning and ends very late in the evening when restaurants or snack bars are still or already closed.

However, the kitchen does not have to be too large, many workers are already satisfied with a small kitchenette or a shared kitchen that they share with other colleagues. This must offer enough space for all people who live in the accommodation. There should also be seating and dining in the kitchen. Overall, it is important that the kitchen is clean and in good quality.

The following important devices should be available in a properly equipped kitchen in a worker's accommodation:
Fridge (with small freezer)
Stove (with at least 2 hot plates)
Oven
Sink (possibly a dishwasher)
Microwave
Coffee machine
Water heater
Pots + pans (at least one small and one large)
Cutlery (spoons, forks, knives, cooking cutlery)
Dishes (cups, plates, bowls, glasses)
We recommend that you as the landlord set clear rules for cleanliness in the kitchen right from the start, so that you don't have to worry about dirty dishes in the end. A house order is ideal, for example, to inform your tenants about who is responsible for cleaning the kitchen and that it has to be in a neat and clean condition before you leave the worker's accommodation.

TIP: Even small things such as kitchen towels to dry off, a small selection of spices for cooking, washing-up liquid, dishcloths or tabs for the dishwasher can offer tenants great added value and influence their decision to book this fitter accommodation again in the future when they're out in the area.
What needs to be considered for a bathroom in a worker's accommodation?
It is up to you as the landlord to decide whether you want to provide your tenants with their own bathroom or a shared bathroom in larger workers' apartments or houses. It is always important that the bathroom has enough space for everyone. The top priority for all workers is hygiene and cleanliness in the bathroom.

A shared bathroom in particular must be large enough, depending on the number of workers within the accommodation. No worker, craftsman or mechanic wants to wait long to change and wash in a hurry early in the morning and late in the evening. In addition, shared bathrooms have to be cleaned at least once a day, and if used more, two or three times a day.

A well-equipped bathroom in a worker's accommodation should include the following things:
Sink
Toilet (with toilet paper and toilet brush)
Shower or bath with shower curtain
Small closet for utensils
Towel holder
Mirror or mirror cabinet
We recommend that you inform your tenants about fixed rules for cleaning in the bathroom at the start of the rental. For example, a separate house order is very suitable for this. This is the only way you can be sure that the tenants know whether they are responsible for cleaning themselves or if you as the landlord take care of it, for example through a cleaning company. So you can save yourself a lot of trouble in advance about a dirty bathroom.

TIP: Additional extras such as towels, small packs of shower gel or shampoo or a hair dryer often give the workers a particularly positive impression and influence them in their decision to book your accommodation again in the future.
Which decoration is suitable for a worker's accommodation?
Since workers work almost the entire day and there are only a few hours in the fitters' accommodation, the decoration is a minor matter for most of your tenants. Therefore, you do not have to do too much work and effort with the decoration in your worker's accommodation.
On the contrary, you should forego a lot of «bells and whistles» and the decoration should be kept rather simple. Unnecessary decoration pieces only serve as a dust catcher and cost you as the landlord unnecessarily a lot of money when setting up . Save this money for the general and qualitative equipment of the worker accommodation — the tenants will thank you.

TIP: Nevertheless, it is important to make sure that your accommodation does not look too bare and cold. After all, the tenants should feel comfortable there. You can create an inviting and cozy atmosphere by bringing color into the room, for example by plants (ideally artificial plants for maintenance) or colorful pictures on the walls.
Do I have to provide my tenants with bed linen and towels?
It is important for many workers that towels and bed linen are provided in the worker's accommodation so that they do not have to bring them themselves.

For this reason, there should be one set of bed linen per person for each worker, as well as one or two small towels and one large shower towel per tenant.

One of your tasks as a landlord is to always ensure that the tenants clean their laundry, that is, the towels and bed linen must be changed regularly: the bed linen must be changed at least every two weeks, the towels should be replaced at least once a week with fresh ones.
Does my worker accommodation need an internet connection?
Today's tenants are placing increasing importance on their own internet connection within the accommodation. It is therefore standard in almost every worker's accommodation. The easiest solution for you as a landlord is to share your own internet connection with the tenants — you only need WiFi. You can obtain precise information on the subject of Internet connection from your own telephone / Internet provider.
What should the landlord record in a house order?
Through a house order, every landlord can set certain rules for his fitter accommodation to be rented, which all tenants must adhere to as long as they are there. Each house therefore has a different house order. It is entirely up to you which rules are set up there, as you can determine your own house order.

In terms of content, a house order is about rules on the following points, for example:
Hygiene in the bathroom
Hygiene in the kitchen
Living area
Night rest / rest periods
Trash
Pets
Smoking
Keys
Due diligence
Damage repair
The point «night rest / rest periods» is an integral part in almost every house order. Here you can regulate that all tenants have to remain calm for a certain period of time so as not to disturb others while sleeping, for example from 10 p.m. to 6 a.m. Some landlords also set a rest period around noon, for example from 1 p.m. to 3 p.m.
Can I smoke in my worker's accommodation?
Of course, each landlord is free to decide individually whether the tenants are allowed to smoke as long as they are in their worker accommodation. In a house order, you can stipulate for all tenants whether or not there is a smoking ban in your worker room.

All tenants are obliged to comply with the smoking ban, if one has been imposed. As soon as someone opposes the smoking ban and still smokes inside the worker's accommodation, this is an immediate reason for you as the landlord. Therefore, make sure that your tenants see the house order before moving into the accommodation, so that you can be sure that they are informed.
If you have opted for a smoking ban, it makes sense to accommodate your smoking tenants by giving them an alternative to smoking outside the accommodation, for example a balcony, a terrace in front of the house or a common room in the house .