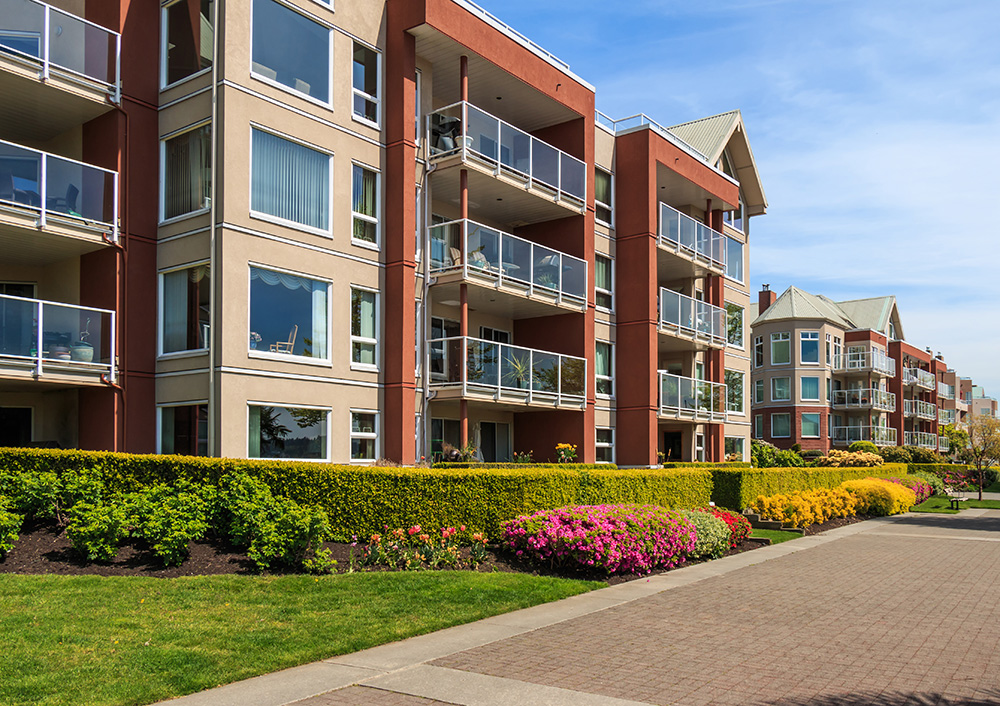 How to build proper workers 'accommodation
If you want to rent a temporary worker accommodation, you have to consider a few special features.
Why?
Because temporary workers are neither permanent tenants nor holiday guests.
Functionality is the top priority for workers' dormitory.
It starts with the flooring, which should be durable and easy to care for, and ends with the furniture, which also has to be practical.
Food preparation and personal hygiene are elementary for workers housing. A fully equipped kitchen and a bathroom with shower are ideally intended for the sole use of the temporary tenant. Where shared use cannot be avoided, this is reflected in the more moderate price.
Sofa and bed in a quiet atmosphere are self-evident. The latter preferably with a view of a television. Good lighting, a workplace with free internet and a secure WiFi network complete the comfort package for the worker's room.
Setup tips for renting accommodation for workers
When renting out apartments to temporary workers , some special features should be taken into account in advance when compared to classic leases . Ideally, these should be taken into account when planning to avoid costly property upgrades. Nevertheless, this contractual relationship of the temporary work differs from a permanent job in one essential point. As soon as the job has been completed, workers leave the accomodation provided to support the employer for the next job. While the long term tenant would like to make a regular decision regarding the interior design for an indefinite contract and will set up his own furniture to this extent, the temporary worker could not do so for organizational reasons. He is therefore dependent on a furnished living space , to be provided by the landlord.
Temporary workers are not holiday guests — these differences must be taken into account
When setting up accommodation for temporary workers, it is advisable to first deal with the special features of this type of rental. In contrast to classic holiday guests who want to spend the best time of the year in the accommodation, temporary workers have different needs and ideas. For them, the feeling of vacation and relaxation is not the main focus. Ultimately, they do their job far from their usual environment. Insofar as the order lasts for several months and the guest also wants to spend the free time in the apartment on weekends, there are of course certain parallels with a holiday guest. The difference is, however, that both the furniture and the accessories provided should be functional. As a rule, short-term tenants want to take care of themselves in the apartment. They are therefore not only dependent on shopping opportunities in the surrounding area, but also need a place where they can prepare their dishes. A cooking area and the usual kitchen utensils should therefore be available or can be provided by the landlord if necessary.
Calculate the maintenance costs during setup
The experience that landlords have when letting premises to temporary workers is generally very positive. On the one hand, the workers use the accommodation only after work, on the other hand, they also want to feel a bit at home themselves. They also represent, in a way, the company they work for and therefore want to leave a good impression. Nevertheless, cleaning work does not fail due to the use of the worker's accommodation . Especially with longer rental periods, it makes sense to provide the temporary workers with both cleaning supplies and technical equipment. These should also be freely accessible so that they are not left to the fitter only on request. This is an advantage because the worker who wants to keep order in the apartment has access to cleaning agents at all times and can therefore take action himself. The free time allocation suits his everyday life so that he does not feel asked to do so. So that the craftsman can comfortably set up, such utensils should either be stowed in a chamber or at least in an area delimited from the rest of the room. When choosing the devices, you should make sure that they are easy to use and actually make your work easier. With heavy equipment, which is also not ergonomically shaped, every guest will probably quickly lose the motivation to want to do anything. A clever waste disposal system is also very important, so that the legacies are not distributed in the apartment. When choosing, it should be ensured that the inserts are easily removed and that new garbage bags, ideally within reach, can be used without great effort. Before the professional tradesman even enters the living space, he should be able to stow his shoes on a suitable shelf. For him it is the first step in his well-deserved end of work and the floor is not unnecessarily dirty by the work shoes. This also saves a lot of time and effort during the final cleaning if the room or apartment is to be rented to the next guest. Landlords usually calculate a small deposit, which should cover the effort and costs for the cleaning work . However, if corresponding measures are not taken, costs and benefits are out of proportion.
Worker accommodation should offer these functions
In larger apartments, which consist of several rooms, the individual areas can be separated from each other. In contrast, in a one-room apartment this division is not easily possible. But even in smaller rooms, landlords should try to integrate different functional areas. Of course, workers need a bedroom. They also want to be able to settle down on a comfortable chair or sitting area after their work, so the rented area also corresponds to a living room. Based on these different functions, the furnishings should also be selected. In addition to a bed and wardrobe, the absolute basic equipment also includes a shelf, a television, a table including seating and a closet in which valuables can be enclosed. However, the facility should not be overwhelming. This is the case when the furniture has been set up in such a way that hardly any open spaces can be used for free movement. Ideally, the apartment is equipped with its own bathroom and at least a small kitchenette. This completely protects the privacy of the guest so that they can settle in to their new surroundings. Alternatively, at least one kind of communal kitchen should be available.
The ideal flooring for short-term tenants
Before the furniture is put in place, however, the worker's apartment should be fitted with the appropriate flooring. It is obvious that existing floor areas do not have to be replaced immediately. However, it should be taken into account in advance that the floor may need to be replaced in the future. Because the changing provision of living space to a large number of guests strains the surface. In addition, some floors are easier to clean and not only save time, they also look cleaner. Laminate and parquet floors are not an optimal choice because they are particularly vulnerable. For example, they must not be regularly wiped with a wet cloth, otherwise they can detach from the surface and swell. However, workers cannot completely avoid carrying dirt from the construction site into the apartment. For this reason, carpet underlays are also not ideal because the stains can sometimes be very difficult to remove. Robust surfaces, such as linoleum or PVC, are therefore particularly suitable for workers' rooms. These can also be easily cleaned with conventional cleaning. Another advantage of linoleum is that the material is particularly environmentally friendly. This guarantees a high quality and hygienic standard. Since fitter accommodation can be rented all year round, carpet runners should be laid out during the cold season, whereby care should be taken to ensure they are non-slip. In contrast, the sanitary facilities and the kitchen area should be tiled, as tiles are impermeable to water. Accordingly, they can also be cleaned thoroughly with special equipment, such as a steam broom. If rugs are laid out in the bathroom, they should be machine-washable so that dirt is removed gently.
The heart of every worker's accommodation: the bed
Sleep is the natural source of regeneration for everyone. Since workers go about their work during the day and are therefore physically stressed, they are all the more delighted when they can lie down in a cozy bed in the evening. A stable scaffold should be chosen for the resting place. A sofa bed is available in smaller rooms, whereby particular attention should be paid to the quality of the lying surface. If you have a real bed, you should of course use a mattress that is easy on the back. A medium-hard mattress is recommended, with durability being a key factor in the selection. Otherwise, the guest's sleep quality suffers, so that the lying surface would have to be replaced regularly, which would entail excessive follow-up costs. Mattresses covered with latex or cold foam are ideal. However, it should be noted that the cover can be easily removed. It should also be able to be cleaned in the washing machine. Materials that are kind to the skin are recommended for bed linen. Cotton is recommended because it is a material that is both breathable and moisture-repellent. The laundry should not shrink even at high washing machine temperatures. Germs and bacteria are only effectively killed at 60 ° C. Ultimately, it cannot be ruled out that a professional traveler will suffer from allergies. For this reason, thorough cleaning is essential. In addition, machine cleaning saves a lot of work for the landlord. A small bedside table should be set up next to the bed, on which a bedside lamp takes its place. After all, the short-term tenant can also find his way around in the unfamiliar surroundings in the dark. In addition, a bedside table offers additional storage space if, for example, the fitter wants to read a few pages in his favorite book in the evening.
The worker's room shines in a brilliant light
Before the light installation in the apartment is carried out, the wall design should be completed. It is advisable to paint the walls with bright colors. With a dark design, more light sources are sometimes necessary to ensure sufficient brightness. Landlords can save money by choosing the right light source. LED lamps in particular are very energy efficient and therefore consume little electricity. The selection is very diverse and ranges from classic ceiling lights to stylish floor lamps. If lamps are already available, the bulbs can be replaced with LED bulbs, which can be purchased with almost any socket. Landlords should not be fooled by the fact that the special light bulbs are more expensive than classic lamps. They are more durable and save electricity costs. Warm light sources are available to optimize the comfort factor. These have an output of around 1000 — 2000 K. In contrast, other LED lights should be preferred for mirrors that are used for dressing, among other things. It is advisable to use daylight colors, which should have an output of at least 5500 K. If fitters also spend the free weekend in the apartment, they often want to take a closer look at the surroundings. When choosing clothing, it should be noted that, in contrast to light bulbs with a high proportion of yellow light, it looks authentic in daylight. How many lamps are ultimately installed depends on the number and size of the premises. In general, the apartment should be adequately lit so that the feel-good factor can be set.
Dinner for One — workers are often self-catering
Due to their often very long working hours, workers usually prepare their meals at unusual times. Therefore, accommodations are ideal for you where you can prepare your breakfast in the early morning or your evening meal later. Accordingly, they should be granted access to a kitchenette at all times. If this cannot be integrated into the apartment due to the size of the room, the use of the kitchen should not bother other holiday guests or the landlords. The cooking area should be equipped with the usual furnishings and utensils. A refrigerator with a separate freezer compartment makes it easier for the worker to plan because he doesn't have to buy his meals in the supermarket every day. In addition, a stove with an integrated oven should not be missing in the kitchen. Other machines, such as a coffee machine, a toaster or a kettle, are extremely popular with workers. A freshly made coffee in the morning is the ideal start to the new day for most guests. In addition, a baked bread roll or a toasted bread tastes particularly good and provides the worker with the necessary energy that he will urgently need during a long working day. It is very important that the guest is provided with a sufficient amount of cookware. This includes not only cutlery and plates, but also kitchen utensils, such as wooden spoons or a can opener. Pans and pots should not be missing either, although different sizes are part of the absolute basic equipment. Models that are coated with a non-stick coating are advisable to minimize the cleaning effort. Ideally, the kitchen has a dishwasher so that cleaning work is kept as low as possible. Alternatively, a sink should be installed so that the fitter can wash his dishes himself. When renting accommodation for workers, it has been shown that guests leave useful cleaning agents or food for the next professional. If there is a lack of cleaning accessories, such as pan cleaners or dishcloths, these should be made available. When choosing the kitchen appliances, safety should be ensured in particular. Low-maintenance equipment also guarantees long-term use. Accordingly, the follow-up costs for new purchases are minimized. Which type of brand is ultimately preferred is ultimately a question of taste. It is certainly not a matter of renting whether a coffee machine with a filter or a coffee pad is used as an example. However, the technical aids should be easy to use. There is usually not enough time to read a comprehensive instruction manual.
The bathroom becomes an oasis of wellbeing

When designing the bathroom, a special feature must be noted in advance. If several guest rooms are rented in one property, it is advisable to set up a shared bathroom. In addition to a shower room, there should also be a separate toilet with a washing facility. The separate shower area is ideally equipped with several shower cubicles so that guests do not get in the way before starting work. In the case of a single worker's accommodation, this must either be equipped with a shower or a bathtub. Both can of course be chosen for large rooms. A bathtub is often used to relax during the cold winter days. However, when planning, it must be taken into account that the use causes higher costs due to the water consumption. In general, a special timer can also be helpful to control water consumption. The costs can be minimized, especially if there are several shower cabins in a shared bathroom. For example, each guest can be given one chip per day for a certain free contingent of minutes. If he also uses more water because he wants to take a longer shower, he has to throw in money. As a result, both interests are sufficiently taken into account. Ultimately, regardless of whether it is a single or shared bathroom, the bathroom should be equipped with standard furniture. These include in particular a towel holder, coat hooks, a mirror cabinet and a storage area. A hair dryer, a toothbrush mug, a toilet brush and sufficient toilet paper should also be available. With a little decoration, the wet room turns into a small oasis of wellbeing. After all, it is the room where the day is both started and ended. A warm atmosphere is a guarantee for a motivated start. So that tidiness and cleanliness can also be maintained in the bathing room, cleaning agents and cleaning rags and buckets should be stored within easy reach.
General tips for the installation of workers' apartments
Now that the apartment for workers has been fully planned, nothing stands in the way of renting it. Nevertheless, providers should note a few small things in the final design. If the guest feels comfortable in the foreign environment during their stay, they will not only recommend the offer, but will come back to it again if it is used on site. Paying attention to small tips can make the difference to other providers.
The design of the living space is particularly attractive if entertaining electronic devices are made available free of charge. A television should not be missing in any room. In the case of several apartments, however, it is sufficient if there is a cozy common room where guests can, for example, enjoy the soccer game in the evening. Of course, this does not have to be the current television model. Compared to old tube TVs, flat screens use less electricity and are more durable. Regardless, a remote control should not be missing. Workers are still very grateful if they can at least share a washing machine. Especially for longer stays, they want to remove dirt from their work clothes. Ultimately, whether landlords also want to offer a tumble dryer for use is a question of their own taste. A drying point that is equipped with clotheslines should not only be sufficient, but also save costs.
Finally, the law regularly obliges the landlord to install a smoke detector in some rooms. This should not be missing in bedrooms and hallways. In an emergency, there should also be a fire extinguisher and a first aid kit in the immediate vicinity. When choosing the electronics, you should make sure that they have been certified with a test seal. In this respect, modern devices are equipped with overheating protection and an upstream automatic switch-off. Short circuits can thus be minimized from the outset.